The  C01 II is the most powerful single-head embroidery machine ever built.
Like the Pro II, the New S1501CII has 3 AC servo motors vs. stepper motors - one for the sewing head, one for the V Pantograph drive and one for the H Pantograph drive. The advantage of the servo-driven machines is higher sewing speeds. Maximum sewing speed has been increased from 1,000 spm to 1,300 spm on flats and from 800 spm to 1,000 spm on caps. 
This bridge-style machine has plenty of room for loading and unloading large hard-to-handle materials such as heavy jackets, canvas bags, horse blankets, and more. Sturdy tubular welded frame construction and positive needle drive technology is standard on all Barudan embroidery machines. 
15 Needles

450x520mm sewing field

1300 stitches per minute on flats, 1000 spm on caps
Features and Specifications are subject to change at any time, without prior notice. Information on these pages is provided without guarantee.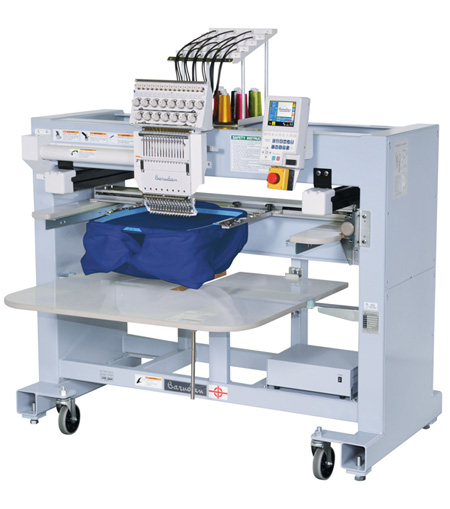 Machine Purchase Includes:
Specifications
Machine Purchase Includes:
Two 12cm (approximately 4½ inches) Blue Round Frames

Two 15cm (approximately 5¾ inches) Blue Round Frames  

Two 18cm (approximately 7 inches) Blue Round Frames          

Two 300x290mm Oblong Frames (approximately 11¾ x 11 inches)

Two 330x438mm Oblong Frames (approximately 11¾ x 16¾ inches)

Two 460x434mm Oblong Frames (approximately 18 x 17 inches)

Advantage EX Cap Frame System: Includes quick-install drive unit, framing device, and two cap frames per sewing head

Tool Box with basic tools, supplies and lubricants

Detailed Parts Book with drawings show user-replaceable parts in your machine (on CD)

Machine Manual Operations and Quick Reference Guide (on CD)

USB Memory Stick for transferring pattern files to your machine

LAN Connector for networking 

COM Port for direct connection to a personal computer for downloading embroidery designs