All of Barudan singlehead machines are equipped with the NEW KT automat. This intuitive, user-friendly icon based operating system features an 8.4 inch LCD touch display automat and allows the operator to quickly load, view, teach colors and much more. The KT automat operations are the same as Barudan's multihead KS/KY machines.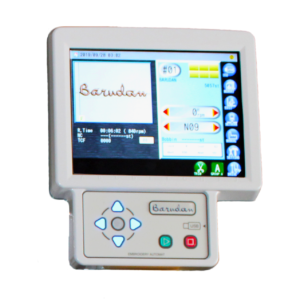 Key Features:
100 Memory Locations, 70 million stitch memory

8.4" Touch LCD Display

Timeline - shows sewing progress color change

Stitch Processing (DSP)

Frame Outlines (Hoop Display on Screen)

Centering Feature (One Touch Centering Tool)

Visual Pattern preview

Design Outline Trace with Laser Pointer

2 USB Ports - USB Memory stick, barcode scanners, etc.

Shortcuts - Customize most-used icons to save time

Dual Tasking - Load/teach next design while sewing

Help Files - Error messages with troubleshooting available on screen

Name Drop - Separates names in a multiple name design for viewing and sewing purposes
Features and Specifications are subject to change at any time, without prior notice. Information on these pages is provided without guarantee.