XT Single-Head Embroidery Machines
BARUDAN SINGLE HEAD MACHINES HAVE THE SAME POWER & QUALITY AS OUR MULTI-HEAD MACHINES.
BARUDAN TECHNOLOGY. SIMPLY THE BEST...SINCE 1959
Barudan's single-head machines are available in four sizes. 
They all share the same standard features listed below. For more information on each machine, click on the model of your choice.  All models feature the same powerful SH sewing head with positive needle drive technology assuring quiet and accurate stitching through a variety of garments, from the most delicate silk to heavy weight leather. The main difference between models is the number of needles and maximum sewing field available.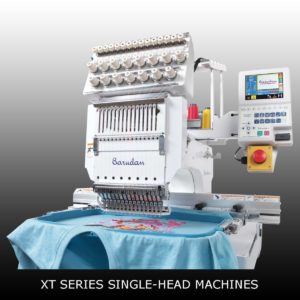 BARUDAN XT SINGLE HEAD STANDARD FEATURES:
New SH (SmartHead technology) for higher performance and increased durability

XT Color LCD 5.7" Automat with icon-based operation menus, same operation as our XS/XY multihead machines

15 Needles on ProII and C01, 9 needles on XLII

100 Memory locations, 10 million stitch internal memory. Designs can be loaded from a USB memory stick (holds up to 5,000 patterns-FDR or DST format) or networked from your computer.

Servo Motors for increased sewing speeds and more accurate stitching

2 USB Ports - Use USB memory sticks to load designs, bar code scanners, etc.

Centering Feature - one-touch hoop centering tool

Positive Needle Drive Technology for more accurate, powerful, precise stitching for Puffy foam, leather, tiny lettering and better registration.

Laser Light - Ensures design will fit in hoop with accurate placement.

Outline Perimeter Trace to ensure that design will fit in your hoop.

Improved Production speeds up to 1,300 stitches per minute on flats, 1,000 stitches per minute on caps

Curved Radius Cylinder Arm - Provides a smooth, even surface for stitching on caps.

Quick Changeover System - No tools required to change from sewing caps to flats.

Exclusive Electronic Thread Clamps - Keeps thread taut and eliminates false thread breaks and thread pull outs.

Timeline - Shows sewing progress, including upcoming color changes and estimated remaining sewing time.

Network Ready - Connect your machines with Design File Server or LEM Server networking software

Visual Pattern Preview - Shows sewing progress, color image of design before sewing and progress as it sews out.

Stitch Processing (DSP) 

Shortcuts - Customize most-used icons to save time

Dual Tasking - Load/teach next design while sewing 

Help files - Errors mesages with troubleshooting

Name Drop - Separates names in a multiple name design for viewing and sewing purposes.

LAN & COM Connector Standard - For networking purposes

Easier Lubrication - fewer oiling points, easier access

Barudan 5-3-2 Warranty - 5 years on the main motor, 3 years on electronic parts/boards and 2 years on all remaining parts (excluding consumables.)

ETL Listed - Safety tested to UL standard 1594.