K Series Multi-head Embroidery Machines
Barudan's New K Series Multi-head machines were introduced in September of 2016. The new K Automat features 10.4" Color Touch Screen, higher resolution and a 100 design, 70 million stitch memory. User-friendly icons and an intuitive main screen provide quicker acess to functions and features. It is available on all new Barudan multi-head machines. LAN and COM connectors are standard for Barudan networking along with 2 USB ports for devices such as barcdoe scanner, keyboard, mouse, hub and card reader.
Barudan offers multi-head models from 2 to 56 heads. All multi-heads feature positive needle drive technology giving you the ability to sew on a variety of items and the most precisely sewn details and lettering. Barudan's superior welded frame construction enables higher production plus top sewing speeds, up to 1,100 stitches per minute depending on the model. Put a Barudan side-by-side any competitor's multi-head and it will out-perform every time. Today some of the top embroidery contractors trust Barudan and only use our multi-head machinery for its increased production, superior stitching and exceptional quality. When you chose Barudan, you can expect quality, reliability and durability.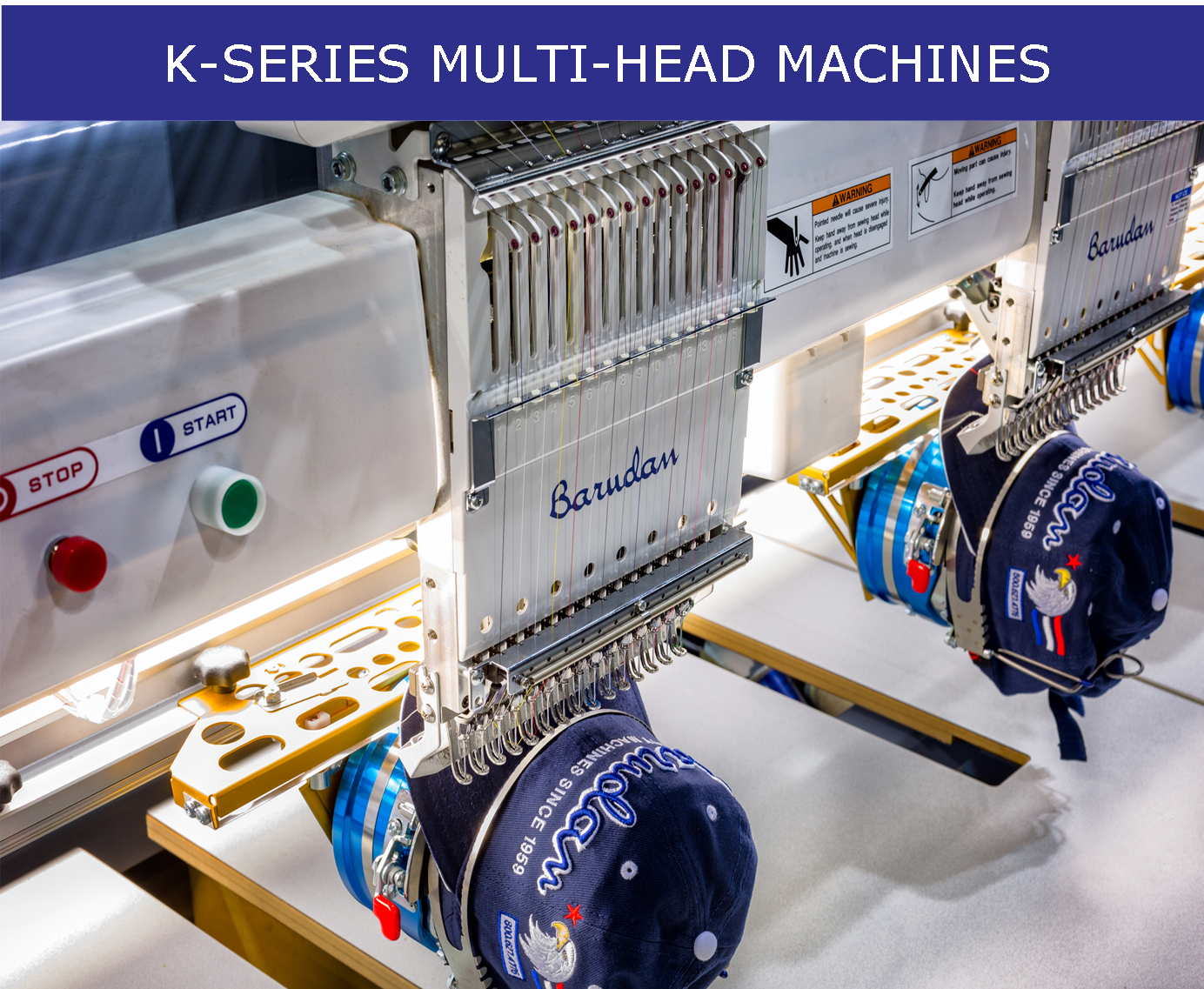 15 needles

New SH Sewing Head (SmartHead technology) for higher performance and increased durability

Sero motors for increased production and more power

Easier Lubrication - fewer oiling points, easier access

Small Diameter Cylinder Arm - best for reaching further into small areas and caps

New tensioner system provides better and easier thread tensioning and improved thread break accuracy

Quick Cap Changeover System - No tools required to change from sewing caps to flats

Exclusive Electronic Thread Clamps - Keeps thread taut and eliminates false thread breaks & pull outs

New K Automat 7

10.4" Color LCD Display with Higher Resolution 800x600

Touch Screen for Easy Operation

100 Memory locations, 70 million stitch internal memory. Designs can be loaded from a USB stick (holds up to 5,000 patterns - FDR or DST format) or networked from your computer.

User-friendly Icons with text

Customizeable Shortcuts for faster access

Stitch Processing (DSP)

Hoop Frame Outlines & Centering Feature

Visual Pattern Preview - shows sewing progress, color image of design before sewing and progress as it sews out.

Design Outline Trace with Laser Pointer

LAN Connector Standard - LAN connector to be used with Barudan networking software - Design File Server, LEM Jr and LEM Pro.

COM Port Standard - COM port available for direct connections and Barudan's Design File Server networking software.

Barudan 5-3-2 Warranty - 5 years on the main motor, 3 years on electronic parts/boards and 2 years on all remaining parts (excluding consumables).

Timeline - Shows sewing progress, including upcoming color changes and estimated remaining sewing time.

Dual tasking

2 USB Ports for devices like barcode scanner, keybaord, mouse, hub, card reader etc.
See details in 2022 K Series Multihead Sales Brochure