Barudan's Design File Server is an easy to use network program that connects up to 8 "KS/KY", X", "V" or "D" series Barudan machines via COM connection to a PC (excludes KT). With this software installed, designs can be downloaded directly from a folder on the PC's hard drive, eliminating the need to carry disks and CF cards to and from the machine.
Design File Server is a program that runs on Windows 10, 8, 7, or Vista. On the left side of the screen is a file browser, for locating embroidery files. On the right side of the screen are machine queues, for up to 8 machines. Using DFS takes 3 steps: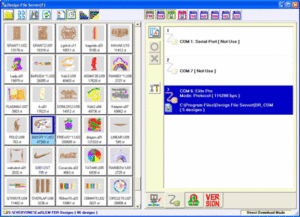 1. Locate design files
Browse your PC Hard disk or CD to find the patterns to be sewn. The thumbnail viewer shows image and stitch information- reads 7 popular embroidery formats.  Icons at top of screen provide quick sorting and searching. Select the pattern.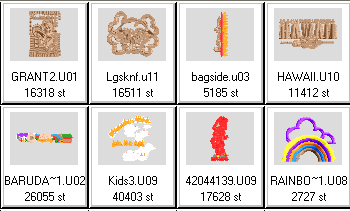 2. Drag & Drop on machine queue
Stack up to 100 designs in the Queue. You can have a common queue, or a separate Queue for each machine
3. Download from machine
From the machine automat, press the Network Icon. The design files in the queue are listed. Select one, press a button, and a few seconds later, it's downloaded into the machine.
NEW FEATURE: Watched Folders!
In this mode, DFS works in the background. Setup a watched folder(s) on your PC, and then hide DFS. Drag and drop embroidery designs using Windows Explorer, or save to the machine folder right from your Digitizing or Editing program. DFS stays in the background.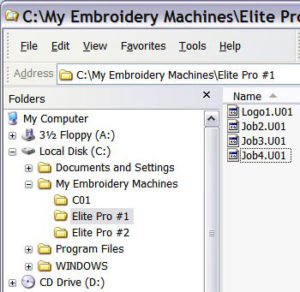 FEATURE:
Automatic File Handling- option to automatically remove design from queue once it has been downloaded- prevent duplication! Or, set to remove designs from queue after a set number of days.
FEATURE:
When viewing the files in the queue, pressing the "?" icon brings up a small thumbnail of the design, and pattern statistics. View and verify the pattern info before downloading! 
Additional Features:
High Speed Design Transfer (up to 10 times faster than standard connection)

Design Management Screen shows design name, colors, stitch count, and size

Reads 7 popular embroidery stitch formats

Assign one common folder or an individual folder to each machine

Easily queue designs for each machine

On the machine automat, browse design queue and select design to download

Once designs are queued, the PC can be left alone

Server can automatically clear designs from queue when downloaded
NOTES:
This program works only on Windows 10, Windows 8, Windows 7, and VISTA. 

Requires one serial port for 'each' machine connection. If you need to add serial ports to your computer, you can purchase a USB-to-Serial adapters for each machine. Part# A100625 USB-to-Serial adapter. If you need multiple USB connections, buy a powered USB hub at your local computer store or online.

Requires one serial cable for each machine connection. Part# ZN30140 Serial Cable.

NOTE: This is addition to the USB-to-Serial adapter. 

Serial COM connections works with Barudan "KS/KY", X", V" and D" series machines (BEKS, BEKY, BEXT, BEXY, BEXS, BEVT, BEVY, BEVS, BEDT, BEDY, and BEDS)

Machine software must be at least:

- version 3.2 or higher on the DY/DS series machine, 

or 

- 2.20 or higher on the DT series machine.
To download Design File Server, go to Support, Software Downloads.
Required Accessories:
ZN30140 Serial Cable- 9 pin to 9 pin for "KS/KY", "X", "V" and "D" series machines 
A100625 USB-SERIAL adapter