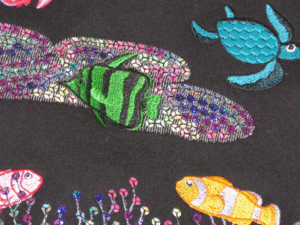 The Sequin specialty machine allows you to do both embroidery and sequins. Let your creativity run wild and be the first to offer multi color sequin embellishment. The machine uses standard sequin sizes 3mm, 4mm, 5mm, and 7mm. Optional sequin size is also available in 9mm. With sewing speeds of up to 1,000 stitches per minute, sewing embroidered goods can be accomplished with this powerful single head.
For more information on our sequin machines, please go to Barudan Co Ltd. website below:
http://barudan.co.jp/en/products/embroidery/sequin/index.html
All Barudan Sequin Machines Feature:
More efficient sequin device, stays in the down position during thread trimming and sequin jump movements.

Sewing speeds up to 1,000 stitches per minute when using 3, 4 and 5 mm sequins.

Only needs one sequin function code to feed and sew each sequin to the garment.

Special alignment of the sequin device optimizes the embroidery field.

15 color; 3, 4, 5 and 7 mm sequins.

450x520 sewing field (approximately 17½   x 20¼ inches)

Available with dual sequin devices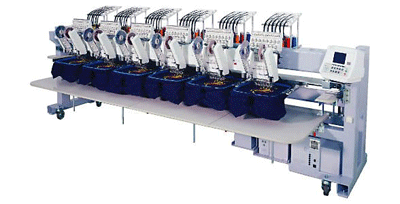 Images shown feature the dual sequin option.
Features and Specifications are subject to change at any time, without prior notice. Information on these pages is provided without guarantee.