Barudan is known for quality and reliability but also for the precise and expertly sewn designs on finished caps. This is due partially because of the innovative design of the Advantage EX Cap Frame. 
Unlike our competitors the Barudan cap frame attaches directly to the pantograph eliminating pivot bars on the machine. No tools are needed for switching from flats to caps, just your two hands. No adjustments are necessary for this self-aligning device.

The newly engineered design is lighter resulting in less design distortion; the rigid mounting base causes less flexing producing more accurate and precise stitching. The Advantage EX Cap Frame was specifically designed for easy installation and removal.

The Advantage EX Cap Frame can be used on the Barudan K-Series, C-Series, D Series and V-Series machines.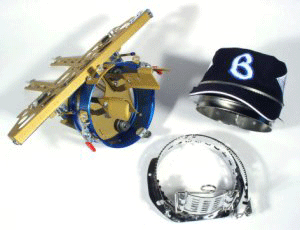 Advantage EX Cap Frame 
Part Number: 
EFP008200 
Elite XL: EFP008227 
Elite Pro: EFP008826
Field Size: Varies depending on the type of finished cap. The width stays the same at 13 ¼ inches, but the height of the crown of the cap ultimately determines the height field size. For example: A cap with a shorter crown, low-profile unstructured cap, 2 ¼ H x 13 ¼ W
Note: Features, specifications, included items and compatible accessories subject to change at any time, without prior notice. Ratings are approximate. Information on these pages is provided without guarantee.